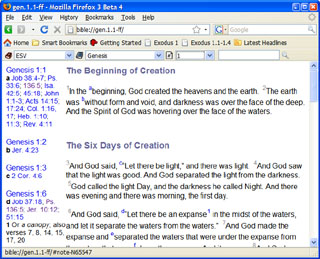 FireBible is a free Bible study tool for Firefox.
Read bibles in languages ranging from English to Arabic, Hebrew and Chinese from the comfort of the Firefox interface you are already familiar with. FireBible will work on
Windows, Linux and the Mac for Firefox versions 1.5 - 3.
Technically, FireBible will work on any platform which supports Firefox and Java.
Supports multiple versions of the Bible in multiple languages.
Powerful search capabilities within Bibles.
Displays linked reference notes if available.
Adds the "bible://" protocol to Firefox, clicking such links in Firefox will immediately open that chapter or verse in Firefox.
Integrated with Firefox's browsing history, go back and forth between passages easily.
Multi-tab and multi-window support so you can have multiple Bibles open at the same time.
FireBible uses Crosswire's open source SWORD technology and modules, making a wide range of Bibles available to FireBible users. In addition, other texts such as Daily Devotionals, Commentaries, Maps, Dictionaries and Glossaries will also be available; though not supported by this release of FireBible, they will be supported shortly.
Download and unzip JSword into a convenient location on your machine. I suggest picking up the most recent Binary zip from the JSword download site. This version of FireBible has been developed with JSword 1.0.7.
Alternatively, you can download BibleDesktop which is a mature, rich Bible study tool. BibleDesktop is based on and includes JSword. FireBible does not currently include any SWORD module management tools, nor does it support the whole range of SWORD modules; BibleDesktop can compliment it well.
Click here (Firefox users only) to automatically install the FireBible extension. You may be informed that software is being installed, in this case, please Allow thegoan.com and try again.
Alternatively, right click, choose Save Link As... and save the XPI file locally. Open this file in Firefox ( File > Open File...) to complete the installation. The extension will be available when you next start Firefox.
After restarting Firefox, go to Tools > FireBible and click the Select... button to select the folder you unzipped JSword into (or the folder in which you installed BibleDesktop). This folder will contain several .jar files including jsword-[version].jar.
In the unlikely event that you don't already have Java installed, click here, scroll down and download and install the Java Runtime Environment (JRE) for your operating system. This will also install the corresponding Java plugin in Firefox. To test whether you have Java correctly installed, please click here, you should see the Java mascot dancing around along with some info about your Java installation.


Viewing a Chapter
Simply click the first combo box to initialize FireBible. FireBible delays initialization until this time to prevent any delays while starting Firefox. Because of the delayed Java initialization, your UI might not react for a few seconds (this behavior changes based on your OS and Firefox version). At this time you will be warned if you haven't got Java installed, or the JSword directory is invalid (see Installation section). If no installed Bibles are found, FireBible will not have any data to work with, you need to install these before you can being reading your Bible (see Downloading Bible Modules).
Use the first combo to select a Bible, the second to select a book and the third to select a chapter, FireBible will then look up the text and bring it up in the browser tab you are currently using.
Searching
Search for exact word
Enter your search time in the search box and click the button next to it or press enter.
Indexing
When you first attempt to search a specific Bible, FireBible will ask you to index it, this usually takes a minute or two at most on most machines. Your search will proceed after the indexing is complete.
Using the Address Bar and History
When you use the combos, observe the URLs being loaded into the browsers address bar. You can bookmark these URLs just like any other URL (even search results can be bookmarked). Because these are ordinary URLs, they are also recorded just like any other site you visit in your History and you may use the back and forth buttons or the History pane to load these locations. Unfortunately, all URLs loaded will use the currently selected Bible, or the first Bible in your list if none are selected; the Bible you were viewing when you originally saved the URL may not be used. This is a known issue which I'm working on resolving.

Reorganizing the UI
By default, FireBible will add a FireBible toolbar to Firefox. If you don't like this, you can simply right click an empty space on your menubar and select Customize. You can then drag the FireBible UI onto any other toolbar and turn it's custom toolbar off. FireBible will not work if the UI is not visible, even if you only intend to use the address bar for navigation. This is a minor limitation which will be fixed in the next version.
Downloading Bible Modules
Now that you have setup FireBible, you need to download some Bibles. FireBible currently only supports Bible Text modules, which you can get here. Download a module of your choice and unzip it into a convenient location.
Next, go to Tools > FireBible and add that folder to the Module folders list (this folder should contain two folders, mods.d and modules). FireBible will refresh and pick up any modules it locates in the specified directory. You can unzip multiple modules into the same directory, but any new modules added to an existing directory will not be picked up until you restart Firefox (will be fixed soon).
Any modules installed in your <user_home>/.sword folder will also be automatically picked up. You can use BibleDesktop to download and install modules easily, by default it places them in this location, so no additional FireBible configuration is required. Modules can be shared by a range of SWORD based applications, including BibleDesktop and FireBible of course.
I cannot install FireBible, an Error dialog pops up with an error code.
This could be caused by reasons ranging from a corrupt download to a corrupt Firefox profile. See this article for more details on how these issues can be fixed.
When I first click the Select Bible combo, I see a "ReferenceError: java is not defined" message.
Go to the Content preference page and make sure Enable Java is checked. The Content preference page is a tab in the Tools > Options / Edit > Preferences dialog.
When I click Select Bible, nothing happens. / The animated icon keeps spinning and there is only a Select Bible item in the list.
There is always a delay caused by the Java VM initialization during which the UI might not react or update. This delay varies depending on your machine's speed and current load. Wait for a short while and try again.
Though Linux and Windows boxes have Java pre-installed, Firefox typically cannot use this installation; this "half way" condition is sometimes difficult to detect, leading to the above situation. Make sure you install a JRE from this link and then restart Firefox. See this Mozilla Zine article for further Java installation assistance.
I cannot see any Catholic/deuterocanonical books in the the book list.
Currently SWORD only supports the 66 OT/NT protocanonical books as Bible Text modules (which is the only module type currently supported by Firebible). Catholic Bible support is a high priority for me and will be made available when FireBible supports General modules (next version).
How do I save the displayed passage to a file?
Use File > Save Page As and select a location and a file name. Make sure you set the Save as type combo to Web Page, complete; Web Page, HTML only will not work.
As previously mentioned, FireBible uses the excellent JSword framework, currently lead by DM Smith. None of this would have been possible without JSword; I wouldn't have even started.
SWORD is CrossWire Bible Society's fire Bible software project. JSword is a Java implementation of SWORD and uses SWORD modules.
FireBible has not been easy to develop and I had to face several challenges, right from implementing a new protocol to Unicode string management, Java integration, etc. The folks in #extdev over at irc.mozilla.org as well as the mozilla.dev.extensions group have helped a great deal. Mook, Moosop (anybody know their real names?) and Mark Finkle in particular.
Cecilia for running into most of the issues which now make up the above F.A.Q and providing several "lay-speak" improvments to this page.
I'm Brian Fernandes and I can be contacted via email here. Bug reports and suggestions are highly encouraged.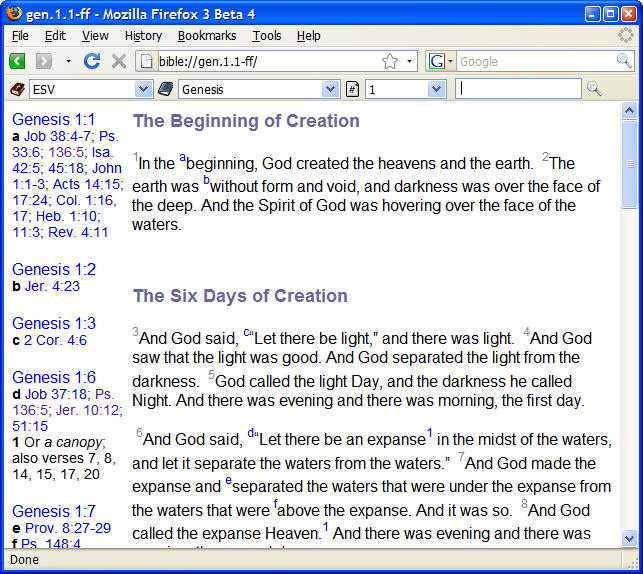 English Standard Version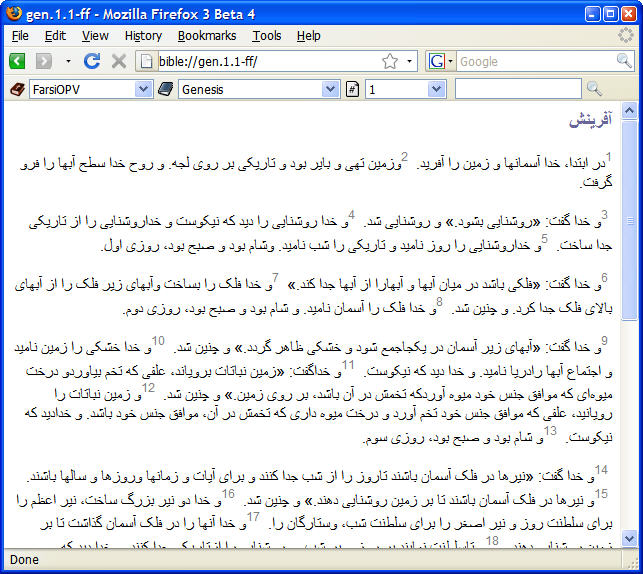 Persian Holy Bible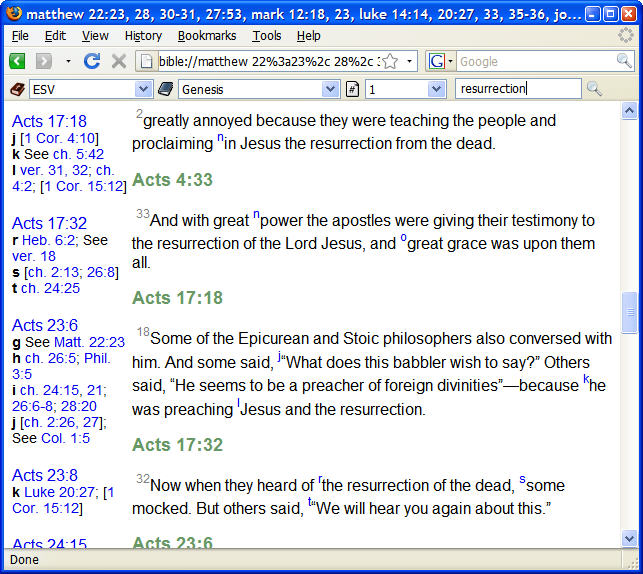 Bible search for "resurrection"